Orladeyo Sustainably Lowers HAE Attack Rates, Trial Data Show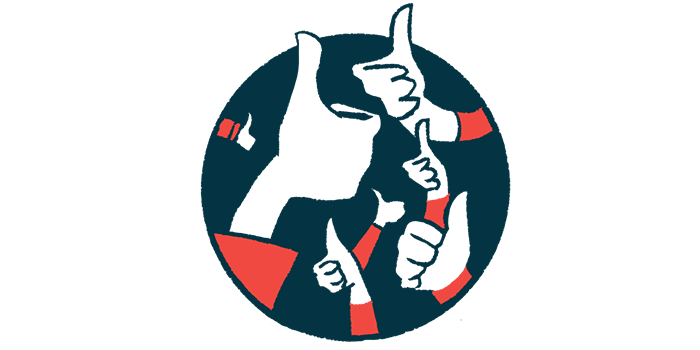 Orladeyo (berotralstat) reduced the frequency of swelling attacks in people with hereditary angioedema (HAE) and improved their quality of life over the course of one year, according to the latest findings from the long-term APeX-S trial.
The approved oral medication also was able to sustainably lower HAE attack rates and improve patients' treatment satisfaction in those switching from injectable prophylactic (preventive) therapies to Orladeyo.
Findings were presented at the 2021 Annual Scientific Meeting of the American College of Allergy, Asthma & Immunology (ACAAI), held in New Orleans, Louisiana, and online, Nov. 4–8.
"We continue to see improvement in key indicators that demonstrate the value of oral, once-daily Orladeyo as an excellent option for patients who want alternatives to injectable prophylactic therapies, which carry a high treatment burden," William Sheridan, chief medical officer of BioCryst Pharmaceuticals, the therapy's developer, said in a press release.
"The data we are presenting at ACAAI further support Orladeyo as a transformative therapy for HAE patients, including those who are already well-controlled on other therapies," Sheridan added.
Orladeyo is a widely approved oral treatment to prevent swelling attacks in people with HAE. It works by preventing bradykinin levels from rising too high. Bradykinin is the inflammatory molecule that drives swelling in HAE.
BioCryst is sponsoring an open-label Phase 2/3 clinical trial, called APeX-S (NCT03472040), to assess Orladeyo's long-term safety and effectiveness in HAE patients, ages 12 and older, for up to two years. Interim data from a pre-planned analysis of the study indicated that Orladeyo was generally safe and well-tolerated by patients.
Researchers now presented safety, effectiveness, and patient-reported data detailing the outcomes of 71 HAE U.S. patients who had been treated with 150 mg of Orladeyo, given once daily for one year in APeX-S. Findings were showcased in an oral presentation titled, "Consistently Low Hereditary Angioedema (HAE) Attack Rates Observed in US Patients Treated with Berotralstat."
This group of 71 patients was comprised of 36 women (50.7%), with a mean age of 37 years. Of these, 51 (71.8%) previously had been on some form of prophylactic treatment for HAE. The median duration of Orladeyo exposure was 435 days (about 14 months).
After starting treatment with Orladeyo, patients had a median attack rate of 0.0 attacks per month, which was sustained for one year.
Treatment with Orladeyo also was associated with immediate, sustained, and statistically significant improvements in quality of life, as measured by the angioedema quality of life questionnaire (AE-QoL). After the first month of treatment, the AE-QoL total score dropped by a mean of 10.8 points, and after one year by a mean of 13.6 points. Notably, in order to be considered clinically significant, AE-QoL total scores must drop by at least six points.
Orladeyo was generally well-tolerated, with no serious adverse events (side effects) related to treatment reported. The most common adverse events reported included diarrhea (18.3%), upper respiratory infection (14.1%), nausea (11.3%), nose and throat inflammation (9.9%), indigestion (8.5%), abdominal discomfort (7.0%), and headache (7.0%).
In a poster titled, "Berotralstat Demonstrates Low Hereditary Angioedema (HAE) Attack Rates in Patients Switching from Injectable Prophylaxis," the team presented safety and effectiveness data from a subset of 34 patients in U.S. sites who had switched from long-term preventive treatment with injectables to Orladeyo.
Patients in this group had a mean age of 38 years and 22 (64.7%) were women. They had stopped long-term prophylactic treatment with injectable products a mean of 19 days before starting treatment with Orladeyo, to which they were exposed to for a median duration of 337 days (about one year).
One year after the switch, more than 80% of the patients remained attack-free, with a median attack rate of 0.0 per month.
The transition from injectable prophylactic treatment to Orladeyo was generally well-tolerated with no additional safety signals identified, and no treatment discontinuations reported. Adverse events observed included vomiting (11.8%), diarrhea (11.8%), upper respiratory infection (11.8%), nausea (8.8%), insomnia (8.8%), sore throat (5.9%), and abdominal discomfort (5.9%).
"The data from APeX-S showed that HAE patients who switched to Orladeyo from an injectable prophylactic therapy had more than 80 percent attack free months," said Marc Riedl, MD, clinical director of the U.S. HAEA Angioedema Center at the University of California San Diego.
"These data show that, regardless of which therapy patients switched from, or when they switched, Orladeyo provided consistently low attack rates when used as a monotherapy. These important findings add to real-world evidence that this oral, once-daily therapy is a beneficial treatment option for many HAE patients," he added.
In another poster titled, "Improved Patient Satisfaction with Berotralstat in Patients Switching from Injectable Hereditary Angioedema (HAE) Prophylactic Treatments," investigators used the Treatment Satisfaction Questionnaire for Medication (TSQM) to assess if the 34 patients who switched from long-term prophylactic treatment to Orladeyo were satisfied.
The most significant improvement was convenience for all of those who switched to Orladeyo, with scores reaching more than 90 points after one year and representing a 33.4 point improvement relative to the study's start. Significant differences also were seen in global satisfaction measures.
Over the course of one year, scores for effectiveness satisfaction remained consistently high, "demonstrating patients perceived [Orladeyo] to be as effective as their prior prophylactic therapy," researchers wrote.
"Increased satisfaction and improvement in quality of life continue to be major driving factors for patients who decide to switch to an oral prophylactic option, as shown in our analysis of patients who switched from injectable prophylaxis to Orladeyo," said Jonathan Bernstein, MD, professor of medicine at the University of Cincinnati, Ohio.
"These results underscore what I see every day in clinical practice, that HAE patients want a more convenient treatment option to control their HAE attacks and reduce their overall burden of therapy," Bernstein added.
Another relevant poster
Finally, the poster, "Sustained Reduction in Hereditary Angioedema (HAE) Attack Rates Following Switch to Berotralstat: Subgroup Analysis from APeX-2," reported on an analysis of HAE patients who participated in the Phase 3 APeX-2 trial (NCT03485911). It is examining Orladeyo's safety and effectiveness in preventing angioedema attacks in 121 HAE patients, ages 12 and older.
This analysis included 17 APeX-2 participants who initially were assigned a placebo in Part 1 of the trial, and then switched to treatment with Orladeyo (150 mg once daily) for Parts 2 and 3. Patients in this group had a mean age of 46 years, and 13 (76.5%) were women. The median duration of exposure to Orladeyo was 751 days (a little more than two years).
After switching from placebo to Orladeyo, patients experienced a rapid reduction in attack rates, attaining a median of 0.0 attacks per month at more than 75% of all assessed time points.
Orladeyo was generally well-tolerated, and safety findings were consistent with those seen in the overall study population.