Patient-collected Blood Samples May Help Predict Acute HAE Attacks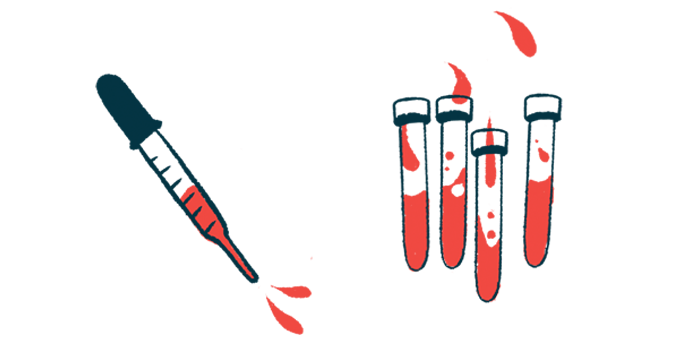 Finger-prick blood samples taken at home could help to provide a simple and convenient way to predict acute hereditary angioedema (HAE) attacks, preliminary results from the Hereditary Angioedema Kininogen Assay (HAEKA) study in Germany suggest.
Samples collected during attacks over the study's course are expected to lead to the discovery of biomarkers reflecting disease activity that would allow patients to take immediate action and treat swelling attacks — the hallmark symptom of HAE — before they occur, the researchers wrote.
Although the study is ongoing and without final results, available data show that patients find it easy to collect samples themselves, according to a press release.
The study, "HAE patient self-sampling for biomarker establishment," was published in the Orphanet Journal of Rare Diseases.
The two main types of HAE (types 1 and 2) are caused by mutations in SERPING1, a gene that codes for a protein called C1 inhibitor. This protein prevents the spontaneous activation of the complement system — a signaling cascade involved in the body's inflammatory response — and regulates other signaling pathways that control blood clotting and inflammation.
HAE types 1 and 2 are diagnosed based on a blood test showing low levels of C4 (a component of the complement cascade) or reduced C1 inhibitor activity.
In people with type 3 HAE, a rarer type, however, C4 and C1 inhibitor levels are normal. This means that its diagnosis requires other biomarkers, which are currently unavailable.
Among a list of potential biomarker candidates is cleaved high-molecular-weight kininogen (HKa), a protein found in plasma (the liquid portion of blood). The development of additional biomarkers such as HKa would not only help in the early diagnosis of HAE, but also monitor disease activity, predict impending swelling attacks, and evaluate patients' response treatments.
The goal of the HAEKA study (NCT04091113) is to measure the levels of HKa and other molecules in HAE patients in Germany. It expects to enroll up to 100 adults with HAE type 1 or 2 who experience four or more acute swelling attacks in the year before they enroll.
Participants are divided into two groups: those who are on preventive treatment with Takhzyro (lanadelumab) and those who are not.
"By including the different treatment groups, it will be possible to assess the effects of different treatments on the potential biomarkers," the researchers wrote.
During the study, blood samples will be taken at each of seven visits, done at three-month intervals in the first 12 months and at six-month intervals thereafter, up to 24 months.
Researchers also developed a protocol for patients themselves to collect samples during an attack. This way, it is possible to monitor biomarkers in the blood over the attack's course. Self-sampling requires patients to use a kit that contains a lancet for finger pricking and a Centogene's CentoCard for blood collection.
"The HAEKA study was designed to make the study activities as convenient as possible for the participants," the researchers wrote. "By preparing boxes with all the necessary equipment and providing detailed explanations with brochures and videos, the effort for participants is kept at minimal."
To collect a sample, a blood drop from a pricked finger is blotted onto the CentoCard, where it is allowed to dry before being mailed to Centogene's lab for testing. Participants are asked to take samples at the beginning as well as three, six, 12, and 24 hours after the beginning of an attack. Patients must also collect a final sample 24 hours after attack symptoms have subsided.
In October 2020, while the study was running for about a year, 41 patients had enrolled at five sites in Germany. All had HAE type 1 or 2, confirmed by genetic testing. Their median age was 40, ranging from 18 to 77. A total of 22 were being treated with Takhzyro and 19 were not.
There were 52 attacks reported by 19 patients. All but one of the attacks was treated with either Berinert, Firazyr (icatibant injection), or Cinryze. During the attacks, patients collected a total of 286 samples out of a maximum of 312 possible (six per attack), corresponding to "a sampling success of 92%," according to the researchers.
"The amount of blood samples collected by the patients during the attacks and the quality of the samples is excellent," the researchers wrote.
Researchers asked participants their opinion about the kit's ease of use. Eighteen patients answered, calling the kit's instructions easy to follow, finger pricking mostly not painful, and blood blotting onto the CentoCard easy to do.
Additionally, no patient experienced unwanted side effects after using the kit.
"The concept of home self-sampling is effective, reproducible, and convenient especially in times of contact restrictions due to the COVID-19 pandemic," they wrote, adding that HAEKA is expected to conclude by 2023.
Self-sampling "also enables [us] for the first time in HAE research to analyse real attack-derived blood samples from a large cohort," the researchers added.
The study is being organized by Centogene and funded by Takeda, which markets Firazyr and Cinryze.